If you're an admitted student, you've probably heard Columbia College Dean James Valentini's catchphrase that Columbia is the "greatest university in the greatest city in the world." From internships to museums to all types of shows and entertainment, the opportunities and lifestyle that New York offers are a defining feature of the Columbia education. What you might not know much about, however, is Morningside Heights, the neighborhood where Columbia is located.
Considering campus tours aren't a possibility right now, Spectrum has decided to give you a virtual Morningside Heights tour by highlighting restaurants, landmarks, and study spots all across the neighborhood, so that admitted students can get a feel of what college life might look like near campus and not just across New York City.
Cathedral of Saint John the Divine and The Hungarian Pastry Shop
The Cathedral of Saint. John the Divine, the largest cathedral in the world, is located a few blocks away from campus between 113th and 110th Street. It's a must-see for every Columbia student, and you can even drop by after studying at The Hungarian Pastry Shop, a cozy, cash-only bakery across the street from the cathedral. Hungarian, as it's commonly called, is a very popular spot for Columbia students looking for a coffee shop setting instead of the libraries you'll find on campus.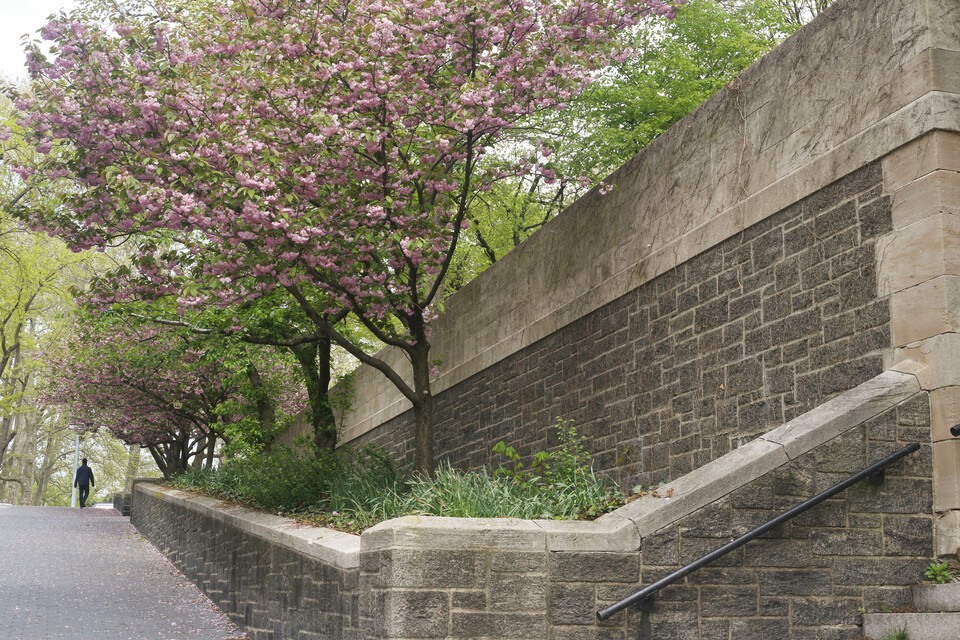 Sakura Park
Sakura Park, located on Claremont Avenue and 122nd Street, is another Morningside Heights highlight, especially during the spring. As its name might give away, this park is filled with more than 2,000 cherry blossom trees, which usually bloom in the springtime. Whether you make this your signature study spot, date spot, or running route, it's a one-of-a-kind sight that's only two blocks away from campus.
Riverside Park
Riverside Park, one of Manhattan's waterfront parks, spans the west side from 72nd Street to 158th Street. It overlooks the Hudson River, which makes for some beautiful sunsets (that you might catch from some of the Barnard dorms if you're lucky). During the winter, if it snows enough, many students flock down to the park to sled down its hills. In the warmer weather, if the steps of Low Library are too crowded (which they definitely will be), you can walk down to the park with your friends for a picnic with views over the river. If running in a gym isn't your thing, many students, as well as some athletic teams at Columbia, use the park for some running and outdoor exercise.
Columbia Greenmarket
How do you know it's a Thursday or a Sunday at Columbia? The Greenmarket! Right outside the main campus gates on Broadway, you'll find all types of foods, gadgets, tapestries, and jewelry at the market. If you're planning on cooking, you can stock up on fresh fruits and vegetables as well as baked goods and cheese for the week during your walk back to your dorm.
Activities
It's a Thursday afternoon, and after a long week of classes, your friend group is looking for a way to wind down. Right on 112th Street and Broadway, you can find Hex & Company, a board game cafe where you and your friends can go through the hundreds of board games and exhaustive number of card games they have. If you're looking for a more physical and active activity, you can try out Steep Rock West, located on 129th Street and Broadway. It's a rock climbing gym with beginner-friendly walls that makes for a unique outing for you and your friends.
For a more classic option, you can go for a movie at the nearest movie theater: the AMC Magic Johnson Harlem 9 theater, located on 124th Street and Frederick Douglass Boulevard, only a 15 minute walk away from campus.
(Fast) Food options
Not to sound too boastful, but Columbia's dining hall food is amazing; it was even ranked number one in the country by the Daily Meal in 2018. However, if you're looking to eat off-campus, there are various options available to you.
For a quick bite to eat, you have fast food places like Shake Shack, Chipotle, Five Guys, Junzi Kitchen, and various other classic New York pizza joints all over the neighborhood, which is both a blessing and a curse if you're trying to avoid that dreaded "freshman 15." There are healthier options nearby, such as Dig Inn and Sweetgreen where you can grab a harvest bowl or salad. There are also a variety of food trucks that line up on Broadway in front of campus, which are perfect if you're looking for a quick bite to eat food in between your classes.
All around the world
You don't even have to take the subway into the city to try different types of cuisine from all over the world. From taquerias, hot pot, ramen, Ethiopian, and Dominican restaurants, you can take a trip around the world right here in Morningside Heights. Don't forget that we're also right next door to Harlem, where you can find some of the best old school soul food in the city.
Best in the city
Speaking of best in the city, some of the most sought after cookies and pizza slices are located right in the neighborhood. The iconic Levain Bakery's 6-ounce cookies are often described as some of the best cookies New York has to offer. Mama's Too, which looks like another ordinary New York pizza joint with unordinary, exceptional pizza to offer, is another New York foodie hotspot and was even a New York Times Critics Pick. Cookies and pizza, what more do you need?
Staff writer Lina Bennani Karim can be contacted at lina.bennanikarim@columbiaspectator.com. Follow Spectator on Twitter @ColumbiaSpec.